Carrier vs. Carrier Comparisons
---
When you renew your homeowners' insurance, do you ever pay attention to the specifics of your coverage? Your home is your most valuable asset, but do you know if you have the right insurance options to cover what you need? You can review the fundamentals of your policy by looking at your homeowners' insurance declarations page provided by your insurance company. We understand it is a daunting document but you should understand your homeowners coverage as much as you can, that way you know exactly what your premiums are paying for and you understand all the types of coverage that you have.
It is important to keep all of your insurance policy documents in a safe, easily accessible spot. Make sure to keep documents like your policy declaration, life insurance policy information, your insurance contract, and any other documents you get from your homeowners insurance company.
All of the people on the insurance policy contract should understand exactly what it says. Of course, if you have any problems or questions, you should contact an insurance agent. No matter how you look at it, this document is important; your homeowners' insurance coverage, your premiums, your liability coverage, your personal property coverage, your deductibles, your policy limits, and so much more will all be contained on your homeowners' declaration page. Here are the steps to reading it.
Save Money by Comparing Insurance Quotes
Compare Free Insurance Quotes Instantly
Secured with SHA-256 Encryption
What is a homeowners declaration page?
Your homeowners' insurance company will send you a homeowners declaration page once a year at the beginning of each policy term. Homeowner's insurance policies are typically effective for 12 months.
The declaration page summarizes your insurance coverage under your policy. In general, it will include information about you, the property you're insuring and the coverage you're getting. You should keep your homeowners' declaration page for your records as you may need to refer back to it when your policy expires or to review your coverage limits.
Declaration pages vary from company to company in design and layout, but they all generally include the same information. A homeowners declaration page can serve as proof of insurance at some point.
Below you can find a breakdown of a homeowners insurance declaration page, how to read it and what each section means. Each part refers to the sections labeled on the sample homeowners insurance declaration page.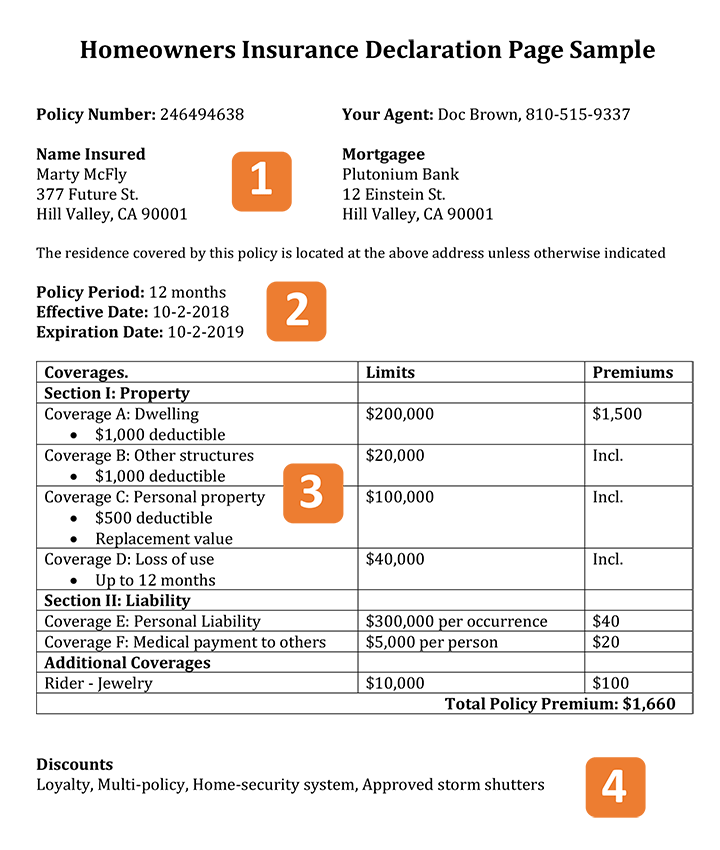 Part 1
The first part of your homeowners insurance declaration page is pretty straightforward and will include your personal information. It will have your policy number and your name followed by your mailing address. This section may also have the name and contact information of your agent as well as your mortgagee (the company your mortgage is with) and the company's address. If the property you're insuring on this policy is different from your mailing address, it will be included in this section. When you receive your declaration page, make sure to check that it's all correct.
The declarations page lists the named insured i.e you and anyone else in your household insured under the policy. It lists all the parties that are involved with your policy and usually includes their contact information.
Part 2
You should pay close attention to this part of your homeowners declaration page. This is your policy coverage period information. It tells you when the insurance coverage on this policy is effective in protecting your property. Make sure you know when your policy will expire so that you can renew your coverage before that date and avoid a lapse in coverage this would leave you uninsured and could result in a rate increase.
Part 3
This section is the meat of your homeowners declaration page. It displays your coverage including coverage limit (such as dwelling coverage, personal property coverage, liability coverage and guest medical protection), premium amounts, and your deductible. A deductible is the amount of money you're responsible for paying to your insurance provider before it will pay your homeowners insurance claim.It also includes your policy number.
Section I is your property coverage broken down by coverage type.
Coverage A: Dwelling - This coverage is for the structure of your home. Your limits should include the amount it will cost to rebuild your home but not include the value of the land. This coverage will also protect any structure attached to the house, such as a deck. However, it won't include something like a fence that has no attachment to the building. The limits in the sample homeowners declaration page show $200,000 and a $1,000 deductible. That means you will pay $1,000 to your insurance company before your coverage kicks in. The company will then cover damage or replacement up to $200,000 if the damage is from a covered peril.
Coverage B: Other structures - This coverage is for anything that you have that's not attached to your home. Your shed and your fence, for example, would be covered under this coverage type. On the sample homeowners insurance declaration page, the premium is marked as "Incl.," which means the cost of this coverage is included in the dwelling premium.
Save Money by Comparing Insurance Quotes
Compare Free Insurance Quotes Instantly
Secured with SHA-256 Encryption
Coverage C: Personal property - All of your personal belongings are covered under this coverage type. That includes anything you have inside your home like your furniture or TV. Some of your high-valued items fine art, jewelry, expensive electronics may have different coverage limits or may need additional coverage known as a rider. The sample homeowners declaration page specifies that this covers the replacement value of your items. Your policy will either cover the replacement cost of the item or the actual cash value of the item. Replacement cost will give you the money it will cost you that day to buy a new one. Actual cash value is the replacement cost minus the depreciation of the item, which is the decrease in the value of an item because of its age or wears and tear.
Coverage D: Loss of use - This coverage is used if you need to stay somewhere else other than your home while repairs are being made for a covered claim. This will typically cover the cost of living expenses like food, hotel, clothing, and other needs. On the sample homeowners declaration page, the insurance company will cover living expenses under the loss of use coverage for up to 12 months with limits up to $40,000.
Section II displays your liability coverage types.
Coverage E: Personal liability - The commonly suggested limits for this coverage range from $300,000 to $500,000. If you're sued because of an accident that happened on your property, this coverage provides you legal protection.
Coverage F: Medical payments to others - This liability protection will cover the cost of medical payments if someone gets hurt on your property. The sample homeowners declaration page indicates that up to $5,000 per person can be protected under a covered claim.
The final section on this sample page is for additional coverages or endorsements. This sample policy has a rider for jewelry. A rider may also be referred to as an endorsement or clause by your insurance company. These can alter your insurance coverage by adding coverage or limiting coverage on your policy with certain conditions. Homeowners may choose to add a rider to their homeowners insurance policy for additional coverage on their high-value items like jewelry or fine art that may not be covered under the standard policy. An example of an endorsement that limits coverage is one that excludes water damage coverage from your policy.
Part 4
Your homeowners declaration page may or may not include the insurance discounts on your policy. If it does, the discounts section will list all discounts that have affected your premium.
It's important to remember that your homeowners' declaration page is simply an outline of your coverage. It will not have specifics of your policy, such as what perils you're covered for or if your breed of dog will be covered by liability. Be sure to read your full agreement to know all the ins and outs of your homeowners insurance policy.
Make sure you understand your homeowners declaration page and everything your homeowners insurance policy covers. A call to your local insurance agent can help you make the best decision for coverage on your insured property. Look into your policy limits as well, to know if accidents such as property damage are covered under your homeowners insurance coverage.
Understanding homeowners insurance can be hard. And it can be even harder to know that you are getting the most affordable rate. Use our free tool to compare insurance quotes near you. It's simple, just enter your zip code!
When was the last time you shopped for homeowners insurance? Check out Clearsurance's top-ranked homeowners insurance companies according to consumers to see where your company ranks.
Save Money by Comparing Insurance Quotes
Compare Free Insurance Quotes Instantly
Secured with SHA-256 Encryption
---
The content on this site is offered only as a public service to the web community and does not constitute solicitation or provision of legal advice. This site should not be used as a substitute for obtaining legal advice from an insurance company or an attorney licensed or authorized to practice in your jurisdiction. You should always consult a suitably qualified attorney regarding any specific legal problem or matter. The comments and opinions expressed on this site are of the individual author and may not reflect the opinions of the insurance company or any individual attorney.