Carrier vs. Carrier Comparisons
---
Did you know you may be missing out on car insurance savings if you haven't shopped for a better deal? People save an average of $390 annually on car insurance when they switch companies, according to Clearsurance research. That kind of money can pay for three trips to the grocery store for your family or even a new TV!
Clearsurance conducted a study to better understand the behaviors of consumers when they shop for car insurance. We conducted an online survey in May and June 2018 to explore how and why consumers got quotes, if they switched insurance companies after shopping, if they saved money by switching and if they were satisfied with their decision. Current car insurance policyholders from a nationally recognized research panel were invited to participate in this online survey. Just over 2,000 participants were included in our analysis.
See the full report and findings
Why it's important to shop for insurance
About 45 percent of respondents said they switched car insurance companies after getting quotes. Shopping for car insurance is important because if you don't test the market, you could continue to overpay for car insurance year after year when you could be saving hundreds of dollars.
Those who switched saved an average of $390 per year
By shopping for car insurance to find a better rate, our results show you could save over $1,000 in just three years.
Only 2 percent of consumers reported no savings when they switched car insurance companies. Some consumers even reported saving over $600 a year! The amount of savings can vary based on a number of factors, including the type of car insured or number of cars insured.
Keep in mind the average savings is only of those respondents who switched. It's likely that of the 55 percent of people who didn't switch companies, some didn't switch because they didn't receive a lower rate. But you won't know if you're missing out on savings unless you shop.
Nearly 91 percent of people who switched companies were satisfied with their decision
Saving money is a big incentive to shop around, but it's also important to note that people who switched companies were significantly more satisfied with their decision than those who didn't switch. Nearly 91 percent of people who switched companies were extremely satisfied or very satisfied compared to just 58 percent of people who stayed with their company.
When to shop for car insurance
The primary reason respondents said they shopped was to test the market, with nearly 33 percent of people falling under this category. However, it has the lowest rate of people who actually switched companies at 24 percent of people who tested the market.
There are many other reasons that prompted people to shop, such as a change in coverage needs, change in job or location, poor service, an agent recommended switching or their former insurer canceled their policy. Poor service is a high indication that someone will switch insurance companies with a switch rate of 81 percent.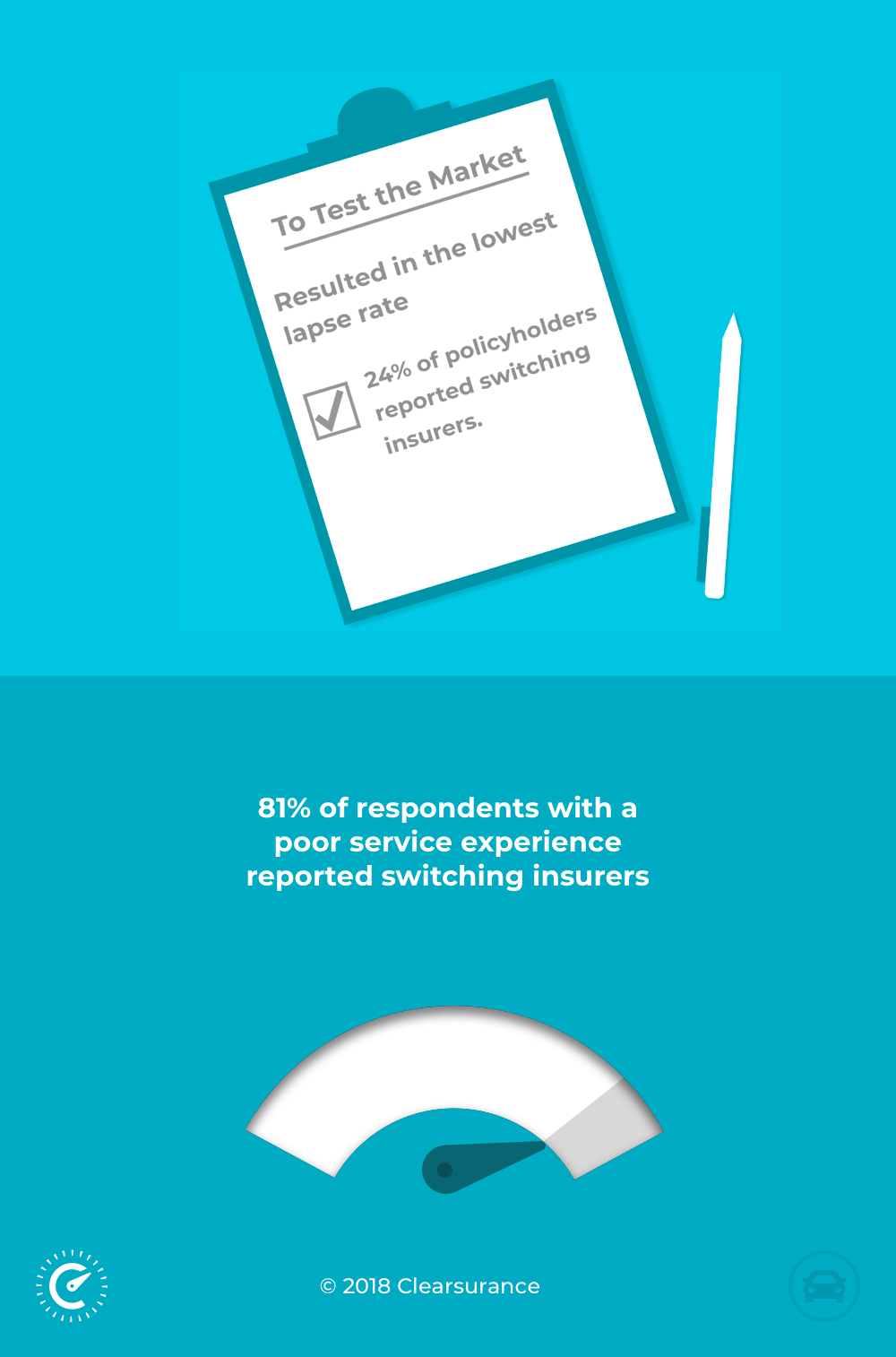 57 percent of people shop for car insurance every two years
If you haven't shopped recently, it's probably time to do so. More than half of respondents said they shop for car insurance at least once every two years. You can get quotes from companies to test the market and see if your company is giving you a fair rate. While staying with an insurance company for a long period of time may result in a discount and savings, that isn't always the case. In some cases, your loyalty may actually be costing you hundreds of dollars. Keep in mind you can switch car insurance companies at any time — not just when your policy is up for renewal.
If you're ready to switch car insurance, we've put together a step-by-step guide on how to switch car insurance.
How to shop for car insurance
When shopping for car insurance, there are a few different ways you can get quotes. You can get quotes directly from insurance companies, through agents or through online third-party sellers. To see the pros and cons of these different ways to get quotes, see our guide on how to buy car insurance.
50 percent of people got quotes directly from the insurance company
The most popular way consumers got car insurance quotes was directly from the companies (49.3 percent), though the other ways to get quotes were also used pretty frequently. Some consumers also used multiple ways to obtain quotes.
If you choose to go through an agent to get quotes, be aware that insurance agencies only provide quotes for companies they're licensed to write for. Third party sellers, which also only work with a select group of companies, are websites you can visit and get quotes from multiple companies at once by entering your personal information. This was the least popular way to get quotes, but 33 percent of people still used this method.
85 percent of shoppers got between 1-3 quotes
Most consumers reported getting quotes from 1 to 3 car insurance companies. Whenever you're shopping for insurance, it's important to get multiple quotes in order to find the best deal.
The number of quotes you get matters. While 45 percent of consumers who shopped for car insurance reported switching to a new company, it isn't until a person received four or more quotes that the percentage of people switching passes 50 percent. Consumers were more likely to stay with their current insurance company if they received less than four quotes. This suggests you could have a better chance of finding a better deal with another company if you get at least four quotes.
Keep in mind, though, there are other benefits to shopping for car insurance than just savings. While saving money is nice, it's also important to purchase car insurance from a company with a strong overall rating from consumers, which also takes into account customer service and claims service. You don't want to be left with an unpaid claim because you cheaped out on your insurance. Check out who other drivers say are the best car insurance companies.
---
The content on this site is offered only as a public service to the web community and does not constitute solicitation or provision of legal advice. This site should not be used as a substitute for obtaining legal advice from an insurance company or an attorney licensed or authorized to practice in your jurisdiction. You should always consult a suitably qualified attorney regarding any specific legal problem or matter. The comments and opinions expressed on this site are of the individual author and may not reflect the opinions of the insurance company or any individual attorney.