Carrier vs. Carrier Comparisons
---
A three-week stretch beginning at the end of August 2017 resulted in the combined costliest hurricane damage the United States had ever seen in a month-long period. First, Hurricane Harvey left Houston and many other parts of Southeast Texas under water. All told, there was about $125 billion in damage. Then just weeks later, Florida residents were faced with one of the strongest hurricanes to ever make landfall. Hurricane Irma ripped up the western coast of Florida, producing about $50 billion in damage.
While media focus and attention has since shifted to this year's costly hurricanes — Hurricane Florence and Michael did plenty of damage in their own right — Clearsurance looked to see how consumers' 2017 hurricane claims were handled by insurance companies. (This research, based on 752 reviews, is done a year after the 2017 hurricanes, as most claims take months to be resolved — there are still more than 59,000 open Hurricane Irma claims as of November 14, 2018.)
At the start of the 2018 hurricane season, Clearsurance published findings on the Florida homeowners market where the state has the least happy homeowners policyholders based on Clearsurance's review data. We found that insurance companies selling only in Florida had a significantly lower score than national homeowners insurance companies doing business in Florida.
This data included consumers who had any type of experience with their homeowners insurance company — not just those affected by a hurricane. In the research we conducted on consumers' experiences after the 2017 hurricanes — Hurricane Irma, Harvey and Nate — we found that national insurance companies significantly outperformed local insurance companies (insurers selling in five or less states).
There was no statistical difference in how consumers affected by Irma rated their experience, as compared to homeowners affected by Harvey. Instead, the difference of performance was based on the size of the insurance company.
Clearsurance's findings for national vs. local insurers
One of the biggest differences in how national insurance companies responded to claims compared to local insurers was their proactiveness in reaching out to their policyholders. Consumers reported more than 32 percent of national insurance companies made the first contact to their policyholder — before or after the hurricane hit — while just 17 percent of local insurance companies made the first contact.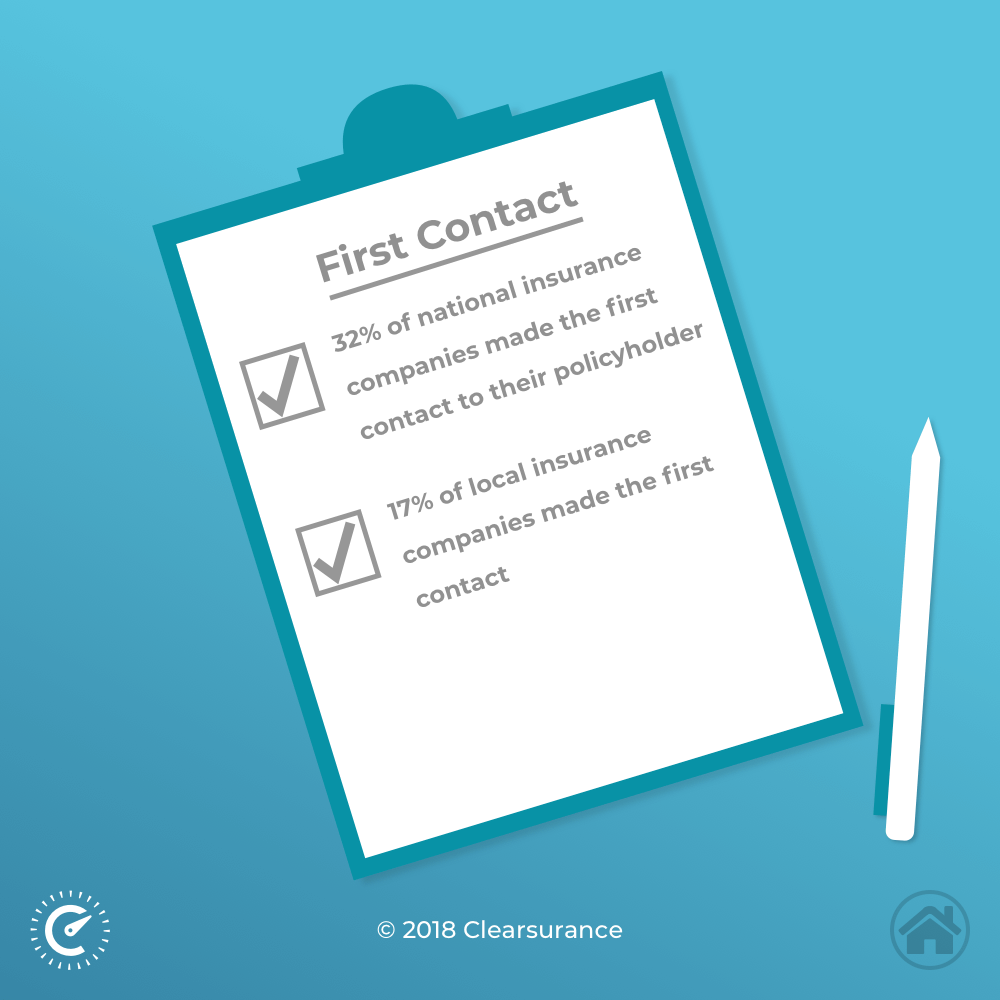 One Allstate policyholder praised their hurricane experience because of Allstate's proactiveness before the hurricane and its speed in handling the claim after the fact.
"They handled the claim as if they were already prepared and ready for me, I was contacted before the hurricane so they knew. I felt as if i was being taken care of, being the care taker of the house it feels good when someone takes care of you. It was done in a timely manner, the money that i needed was given to me within a week. I had a window go out on the house and things of that nature so i really needed to get that fixed fast, I had no problems dealing with allstate."
When it came to the actual handling of the claim, national insurance companies held a statistically significant advantage over local insurance companies for consumer ratings in three different categories: overall handling of the claim, timeliness of the process and the appraisal of the damage. The only category where there wasn't a statistical difference was the amount of payment for the damage, though national insurers still held the edge.
| | Local insurers | National insurers |
| --- | --- | --- |
| Overall handling of claim | 2.84 | 3.41 |
| Timeliness of the process | 2.89 | 3.31 |
| Appraisal of the damage | 2.76 | 3.13 |
| Amount of payment for damage | 2.73 | 2.99 |
As one might expect, the difference in how these groups of insurance companies handled claims led to a sizeable difference in how consumers felt about their insurers moving forward.
Nearly two thirds (63 percent) of national policyholders indicated they planned to stay with their company. Comparatively, just 46 percent of local policyholders said they planned to remain with their provider.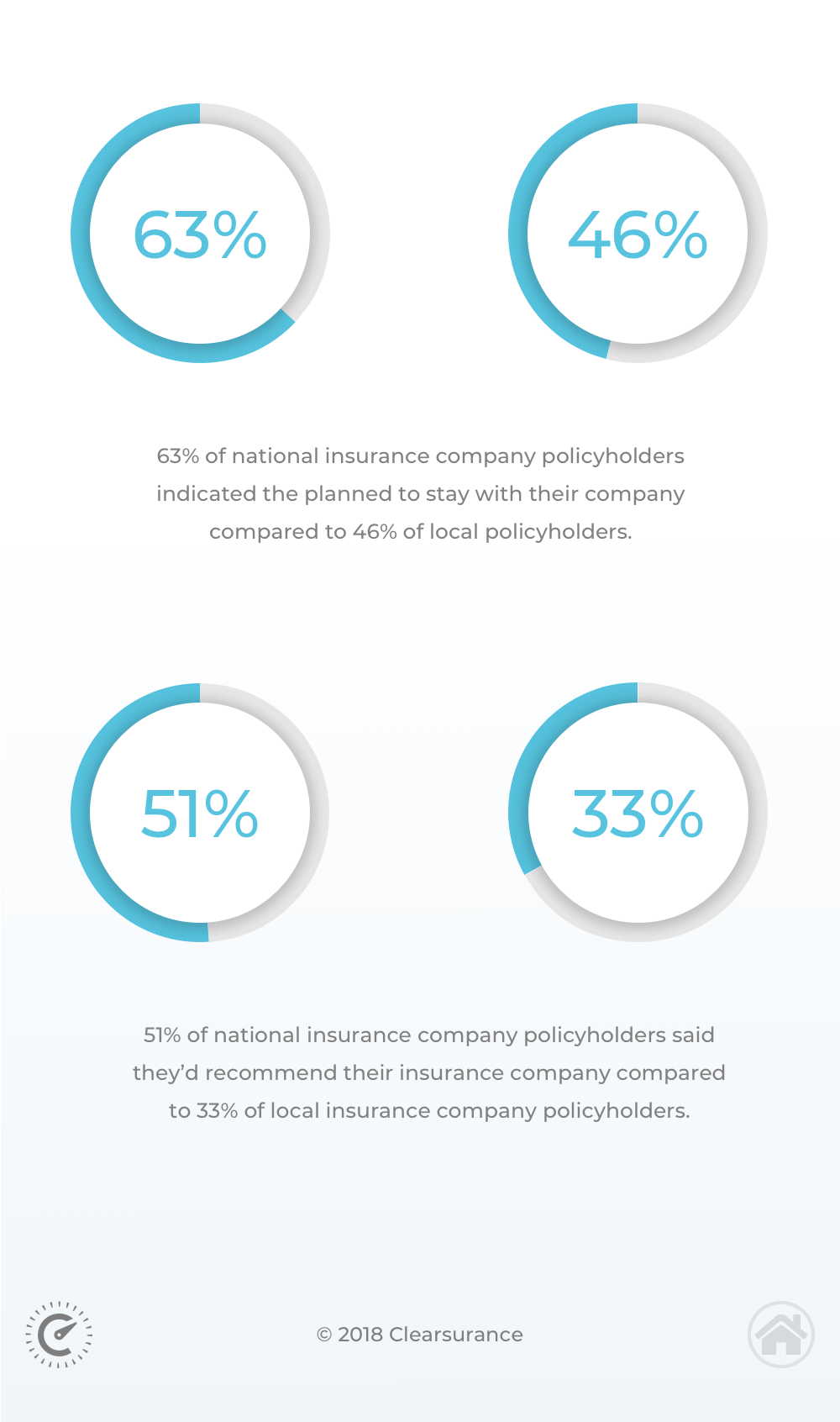 The same type of difference can be seen for the percentage of consumers who said they'd recommend their insurance company to a friend after their hurricane experience. Fifty-one percent of national policyholders said they'd recommend their insurance company compared to 33 percent of locals.
Why did national insurance companies perform better?
So these stark differences in how consumers rated their experiences with a national company as compared to a local one begs a simple question, "Why?" That simple question doesn't have quite as simple an answer. In fact, there's likely a number of contributing reasons.
However, we have identified at least one primary reason based on our findings that we believe is leading to the difference in how consumers rate national insurance companies after a hurricane when compared to how local policyholders rate their insurer.
The size of a national insurance company provides a significant edge when it comes to handling a large batch of concentrated claims like after a hurricane. Take a situation like Hurricane Irma, for example. There were 838,109 residential property claims filed in the wake of that hurricane, according to the Florida Office of Insurance Regulation. While a smaller insurance company that only writes in Florida still has the same number of claims representatives as it would if it was handling a non-natural disaster claim, a national insurer can pull in claims representatives from all around the country to assist.
In a scenario where thousands of policyholders may be trying to file a claim, having many additional hands on deck can expedite the speed in which a claim is handled. And as noted above, there was a significant difference in the number of national insurers proactively reaching out as compared to local insurers.
In our research, we saw twice as many policyholders of local insurers complain (9 percent) about how slow the process was compared to 4 percent for nationals. Additionally, a significantly higher number of individuals with local companies discussed problems reaching contacts at their company, and having to call repeatedly for status updates.
Another contributing reason is the way adjusters for local companies handled claims as compared to adjusters working for national insurers. As noted above, policyholders rated their appraisal of the damage as an average of 3.13 compared to just 2.76 for local insurance company policyholders. And when we look at what these policyholders were saying about their experience, a staggering 30 percent of local insurance company reviews mention their adjuster within the review. This compares to just 13 percent of national insurance company reviews.
Given the large quantity of claims in both Florida and Texas, adjusters were few and far between. In fact, Florida Gov. Rick Scott actually signed an emergency declaration that loosened Florida's regulations as to who could work as an adjuster in the wake of Irma.
One consumer wrote about this, saying, "Due to the backlog of so many insurance claims in the area, they had to outsource insurance adjusters from other states who were not at privy to FL laws. We had an issue with getting out roof covered but was finally able to take care of it with the help of our insurance company. it just took longer than expected."
Another Florida policyholder complained of the appraisal amount. In their review they said, "They did not do a great job at handling the claim. They did not contact us after the storm and took awhile to have a claims adjuster come out. The adjuster walked around for 30 minutes quiet and unprofessional. Then their assessment of the home damage was subpar. Having been in the construction industry before, I know that it was at least 1/3 assessed at what it cost to replace."
While some policyholders of national insurers had issues with their adjuster and appraisal, the data shows the adjusters working for smaller insurance companies were a more common issue. One potential solution for consumers is hiring a public adjuster who negotiates with their insurance company on behalf of them. The drawback here is that policyholders have to pay for the adjuster, and with widespread catastrophe events like hurricanes, there may be a long delay because of the large quantity of claims.
What does this mean for consumers?
While this data indicates that consumers generally had better claims experiences in the wake of the 2017 hurricanes when dealing with national insurance companies, homeowners and renters shouldn't simply rule out smaller, local insurance companies when searching for a policy.
At the national and local level, insurance companies' ratings can vary greatly. When searching for a company to protect your property and belongings, it's critically important to invest time in researching your options before making a decision.
Clearsurance provides tools to help you do that research and compare your options. With thousands of consumer reviews and consumer ratings for insurance companies, you can learn from the experiences of others. Check out which companies others rate as the best homeowners insurance companies in your state.
---
The content on this site is offered only as a public service to the web community and does not constitute solicitation or provision of legal advice. This site should not be used as a substitute for obtaining legal advice from an insurance company or an attorney licensed or authorized to practice in your jurisdiction. You should always consult a suitably qualified attorney regarding any specific legal problem or matter. The comments and opinions expressed on this site are of the individual author and may not reflect the opinions of the insurance company or any individual attorney.