Carrier vs. Carrier Comparisons
---
While buying car insurance may be a requirement for drivers, it's certainly not a process any of us look forward to. At Clearsurance, we empathize with you. We don't want you to have to spend any more time than you have to shop for car insurance. After all, we only buy insurance for two reasons: 1. the law or a financial lender requires it, and 2. so it's there when we need it most.
This car insurance buying guide is designed to provide you with all the knowledge you need to make an educated car insurance decision. Think about it this way: spend a little time reading this guide now, identify the right car insurance company and coverage, and then you won't have to worry about your car insurance any longer.
First things first, you need to understand the different ways to shop for car insurance and the pros and cons of using these different methods to buy car insurance.
What are three ways you can shop for car insurance?
There are three ways that most car insurance shoppers buy insurance. They are:
Direct from an insurance company
Through an insurance agent
Online through a comparative quoting website or lead generation website
Each of these options for shopping and buying car insurance has its benefits and drawbacks. It's important that you understand the potential difficulties of using these methods and the financial incentives behind each of these methods.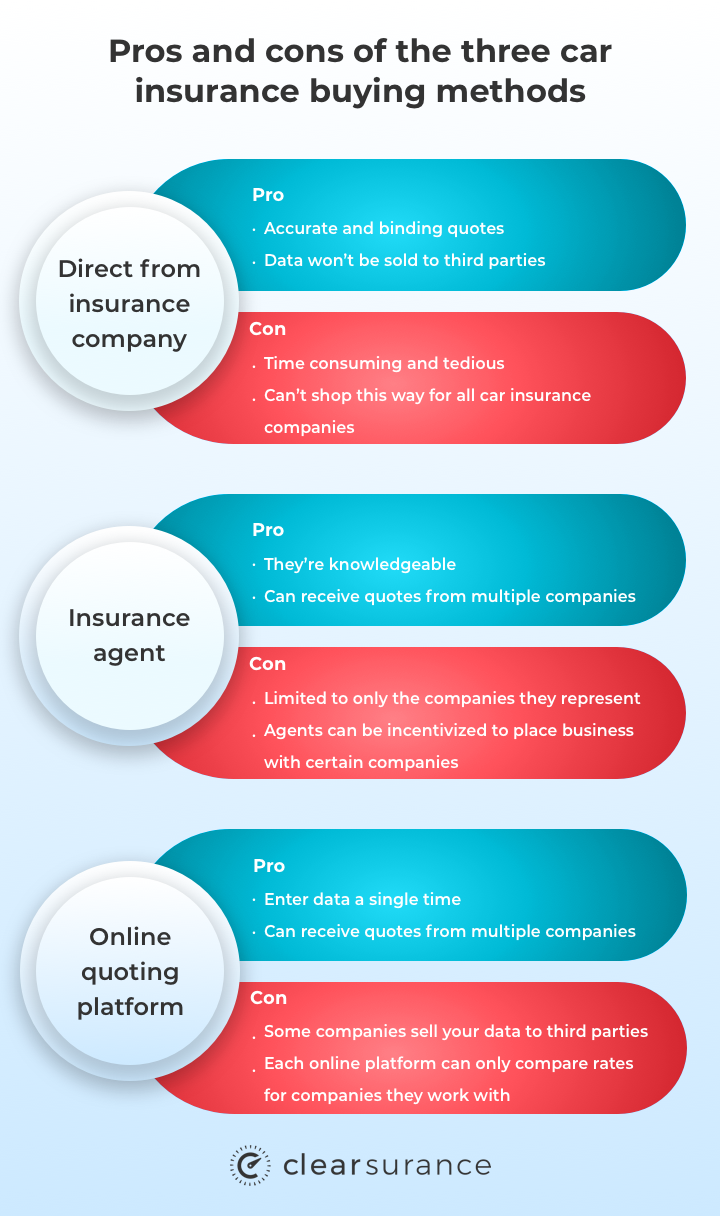 Direct From an Insurance Company
If you're shopping for car insurance online, you'll see a lot of websites offering quotes from companies or listing rates for a company. The trouble is, if the rates you're seeing aren't a formal quote from the car insurance company, it likely isn't an accurate representation of what you'll be paying. For this reason, going direct to the source, or in this case directly to the insurance company, can be a great way to ensure the quote or rates you're seeing are what you'd pay for your car insurance with that company.
What's the trouble with shopping directly from a company? It can be tedious and time-consuming. If you choose to buy auto insurance directly from an insurance company, be prepared to spend a fair amount of your time-sharing and entering the same or similar data for each company that provides a quote.
Each car insurance company will require you to provide a number of data points about yourself, and if you're doing this for four or five companies, you'll be spending a lot of time filling out similar forms.
The other problem? Not all car insurance companies allow you to get quotes from them directly online. Some insurers only sell through independent agents, meaning you can't get the quote online yourself. For this reason, it can sometimes be challenging to shop directly with an insurance company.
While it can be time-consuming to shop this way, make sure you get quotes from multiple companies if you opt to go directly through a company. Receiving a quote from one company is the equivalent of entering a negotiation with one bidder. With only one bid, it will be difficult to know if you are paying a competitive, fair market rate.
An Insurance Agent
Insurance agents serve as an intermediary between you and your auto insurance company. An insurance agent is a middleman in the transaction, and middlemen always get a cut. It's important to keep that in mind if you choose to buy your insurance through an agent.
If you opt to use an agent, ask the agent how many insurance companies they represent and what percentage of their business is with the company they send most of their business. There is nothing wrong with asking an agent their commission percentage. However, most agents receive override or supplemental commissions from companies for concentrating the business, and those commission percentages are determined at the end of the year, so it could be a genuinely difficult question for an agent to answer.
Why is this important to ask? If an insurance agent is incentivized to place a percentage of business through a certain car insurance company, they may be inclined to recommend to you a company that pays them a higher commission rather than a company that offers you the cheapest rate or has the best service.
When using an independent agent to determine which car insurance best fits your needs, make sure you know which companies the agent represents and that you feel confident you're getting the best company with the best price.
Online Quoting Platform
Over the past decade or so, comparative online car insurance quotes have increased dramatically. Similar to other industries, consumers are able to enter their data into one form and receive information from multiple companies.
The problem is, each of these third-party platforms is different, and they aren't always transparent about how they're using your data.
Before shopping for car insurance online, make sure you understand whether you're signing up for a lead generation service. If you do use a lead generation service, you should understand that oftentimes you will be steered to a specific company, or a small number of companies that pay the most amount of money to the lead generation website. You will need to read the fine print in a web site's terms of service to really understand the company's model, and oftentimes the fine print is confusing. If it's not apparent to you how the website gets paid, it's probably lead generation.
If you enter a lead generation process, be prepared to receive an onslaught of telephone and/or email solicitations from insurance, and even non-insurance-related, third parties.
The benefits of using an online quoting platform are the ability to compare car insurance rates for multiple companies without having to enter your data numerous times.
What should you consider when picking a car insurance company?
When picking a car insurance company, it's important to find a quality company, not just the one offering you the cheapest rate. Clearsurance has thousands of car insurance reviews from consumers who've had experiences with the companies you're considering.
Also, consider which car insurance company would work best with your insurance history. If you have had multiple at-fault accidents, and speeding tickets, your insurance rate will be higher than average. You may also be charged more because of your age due to insurers' assessment of generational driving behaviors and the age tax. You will want to shop around to see which company will provide you the best coverage for your age and driving history at the lowest price. Other factors such as your credit score might also play a part in which insurance company you choose.
Each car insurance company has a rating that's based solely on customer feedback. You can check out the best car insurance companies according to consumers, and filter the list by only the top companies available in the state you live in.
Here are the steps we recommend taking in order to identify the car insurance company you select.
Filter and scan the rankings page
Identify three to five companies you're interested in
Read reviews on those companies
Receive quotes from the companies you're interested
Select the best option for rating and price
Consumer Ratings and Car Insurance Rankings
The best car insurance company for a driver in Florida with a DUI on their record isn't likely going to be the same best company for a driver in New York with a clean driving record. So when you visit Clearsurance's rankings page of the best car insurance companies, it's important to utilize the filters to get a personalized ranking for you and your needs.
The rankings and ratings are unique in the fact that they're unbiased. The ratings and rankings of companies are determined only by the customer reviews written on Clearsurance. Unlike many other websites advertising the best companies, our rankings and ratings aren't affected or altered by any partnerships we have with insurance companies.
Once you've used the filters and personalized the rankings list in your zip code, now it's time to identify the companies you're most interested in. Once you've narrowed down the list of companies you're considering, this is when you can do a little more research and request quotes.
Car Insurance Reviews
Research shows 91 percent of consumers read online reviews regularly or occasionally before making a purchasing decision. Insurance may not be the same enjoyable purchase as a new car or a new home is, but insurance does protect those significant financial investments. It's importance can't be overlooked. All this is to say that it's important to consider what other customers have to say in reviews when making your insurance decision, too.
On each insurance company's profile page, you can navigate the reviews section where you can sort and filter the reviews to learn from the experiences of current and former policyholders. It's important to see what consumers say the company does and doesn't do well so you can decide if the car insurance company is a good fit for you.
Here's an example of what USAA's reviews page looks like:
Car Insurance Quotes
Now that we've outlined the pros and cons of each car insurance shopping method and once you've narrowed your list of companies to the ones you're interested in getting a quote from, you need to decide how you want to obtain your car insurance quotes.
You may need to consider using multiple methods depending on the companies. For example, you may opt to get car insurance quotes online directly from a couple of the companies, but you may have to contact an insurance agent to get quotes from a couple of other companies.
On the Clearsurance ranking of the best car insurance companies, you can get car insurance quotes from select companies.
When getting auto insurance quotes, it's important that you're comparing quotes with the same coverages and limits, otherwise, it's not a true price comparison among the companies.
How can you select your car insurance coverage?
Each state has its own minimum car insurance requirements and limits, so as a baseline, you'll need at least as much coverage as your state requires simply to be legal on the road. However, it's not wise to simply buy the minimum coverage required as you'll likely be underinsured in the event of a costly accident, and you won't have any protection for your own vehicle with the minimum coverage.
States typically require some combination of the following coverages: bodily injury liability insurance, property damage liability insurance, uninsured motorist coverage/underinsured motorist coverage, personal injury protection, and medical payments coverage (PIP).
Additionally, if you currently lease or finance your vehicle, you may be required to purchase collision and/or comprehensive insurance. Geico has a helpful coverage calculator that tells you what coverages and limits you should buy based on a few data points you enter.
It's important to understand what each of these coverages protects you from and what the limits mean. In the section below, we've explained the different car insurance coverages you can choose from.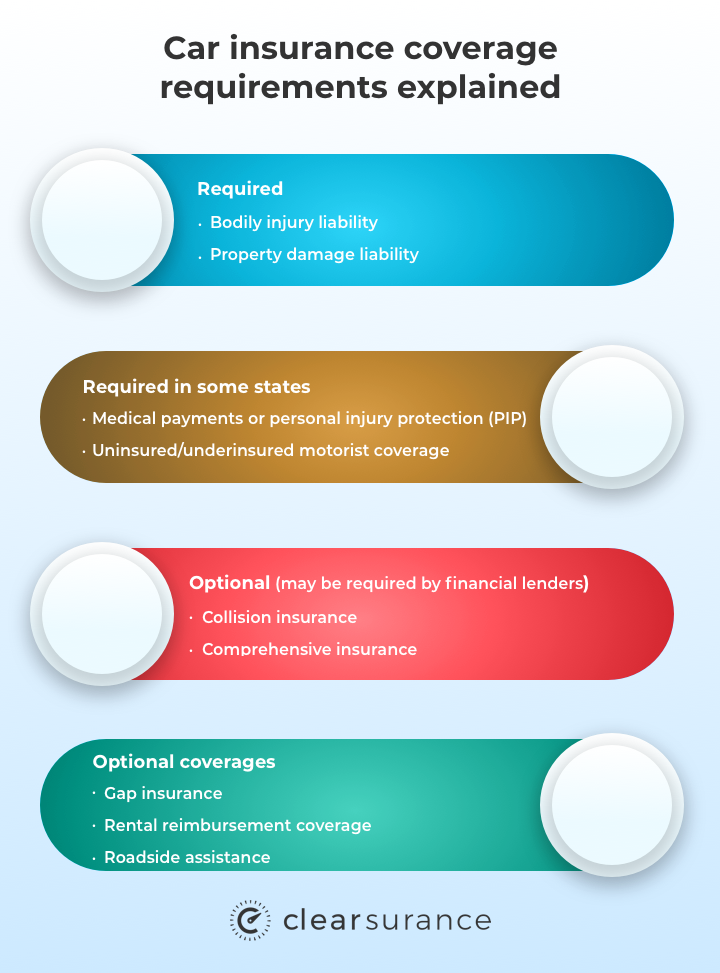 Car Insurance Coverages Explained
Bodily injury liability: Bodily injury liability, which is a required coverage in nearly every state, pays for expenses resulting from injuries sustained by the other vehicle's driver and any passengers in an accident the policyholder is found at fault for. Many industry experts recommend $100,000 bodily injury liability per person and $300,000 bodily injury liability per accident for sufficient coverage. Read more about bodily injury liability insurance.
Property damage liability: Property damage liability, which is also a required coverage in nearly every state, pays for expenses resulting from any damage to another person's property (usually the other driver's vehicle, but also could include a fence, guard rail or other structure) in an accident the policyholder is found at fault for. A common property damage liability limit is $50,000 per accident.
Medical payments/Personal Injury Protection (PIP): This coverage pays for expenses resulting from injuries sustained by the driver and passengers of the policyholder's car. In 12 no-fault states, this coverage is referred to as Personal Injury Protection (PIP) and is required coverage. The minimum limits for this coverage vary by state. Read more about personal injury protection.
Collision coverage: Collision insurance is an optional coverage that pays for damage to the policyholder's vehicle due to a collision with another vehicle, object, or due to the car flipping over. While this coverage isn't required by any state, it may be required if you finance or lease your vehicle. Collision coverage does have a deductible, which is the amount you're responsible for paying before your insurance company pays for the additional costs. Common deductible amounts are $250, $500 and $1000. Read more about collision insurance.
Comprehensive coverage: Comprehensive insurance, which is also an optional coverage, pays for damage caused by anything other than a collision, such as hail, fire, theft, contact with an animal, and more. Similar to collision insurance, it isn't required by states, but it may be required by your lender if you finance or lease your vehicle. Additionally, comprehensive insurance does have a deductible. Read more about comprehensive insurance.
Uninsured and underinsured motorist coverage: This coverage, which is required in some states, pays for expenses resulting from injuries sustained by the driver and passengers of the policyholder's car in an accident caused by a driver that is uninsured or underinsured. Read more about uninsured and underinsured motorist coverage.
Umbrella insurance: Umbrella insurance is an optional coverage that provides additional liability protection for you and your assets in the event an accident extends beyond your car insurance limits. You typically need at least $250,000 of liability insurance on your auto insurance in order to get umbrella coverage. Read more about umbrella insurance.
Gap insurance: Gap insurance, another optional coverage, is designed for owners of newer cars and pays the difference between the amount the policyholder owes on a car, and the amount the insurance company would pay if the car is considered a covered total loss. Read more about gap insurance.
Rental reimbursement coverage: Rental reimbursement coverage, an optional, add-on coverage, reimburses you for your rental car payments after a covered accident. Here's how to get a rental car from an insurance claim.
Roadside assistance: Roadside assistance: Roadside assistance, an optional add-on coverage, provides emergency roadside assistance, such as towing and flat tire repair.
How can you save on your car insurance rates?
As a car insurance shopper, you're likely looking to get the cheapest car insurance rates you can. While you certainly don't want to pay more than you need to for your auto insurance, it's important to strike a balance between a good price and a highly rated company. Ideally, these companies will be one and the same.
There are some things you can do while shopping for car insurance to help save on your car insurance rates, though. First and foremost, you should always look for car insurance discounts that you're eligible for. Many insurers offer a multi-vehicle discount, safe vehicle discount, safe driver discount, and others that can help you get cheaper auto insurance rates.
Additionally, if you feel you're a great driver but your rates don't reflect your safe driving, you should consider enrolling in a driver tracking program. Certain insurance companies offer programs where they measure your driving habits (e.g. the time of day that you drive, your speed and braking habits), and you can earn significant discounts if you prove to be a safe driver.
These are just a few ways that you may be able to get lower car insurance prices. For more ways to save, check out our guide on how to get cheap car insurance.
How can you manage your car insurance moving forward?
Some drivers opt to stay loyal to their car insurance company for many years, and in some cases, that may be the best decision. However, it's always best to test the market at least once every couple of years. Did you know that our research shows consumers who switched their car insurance saved an average of $390 annually?
You should continually monitor your car insurance rates at each renewal, and if you see your rates steadily rising, it may be time to switch car insurance companies.
There are other events that may happen in your life that are perfect times to look back into buying different car insurance. For instance, if you move to a new state, you should explore your car insurance options. In some cases, your auto insurance company may not sell in your new state, and you'll be forced to switch. But in other cases, you may find a car insurance company that's rated better or has cheaper rates in your new state than your current insurance provider offers.
Some other instances that may happen when you should consider shopping for car insurance include:
Adding a new driver to your policy
Adding a new car to your policy
If you've been in an accident
If you're buying a new line of insurance
What's the bottom line?
Buying car insurance isn't an activity we look forward to, but it's a requirement and it's important to our financial security. Understanding the pros and cons of the different shopping methods as well as the coverage and limits of your policy is important before making a decision.
You want to make sure that you are receiving the best car insurance policy from the best car insurance company, at an affordable price. A call to your local insurance agent should help answer any questions that you might have. Questions to consider asking include, "What types of coverage can you guys offer me?" "How much does an average auto insurance policy cost?" and "What is the average monthly premium you guys charge?"
Be sure to check out ratings and reviews of the companies you're considering, and remember, it's not just about price. See which companies other drivers rate as the best car insurance companies.
---
The content on this site is offered only as a public service to the web community and does not constitute solicitation or provision of legal advice. This site should not be used as a substitute for obtaining legal advice from an insurance company or an attorney licensed or authorized to practice in your jurisdiction. You should always consult a suitably qualified attorney regarding any specific legal problem or matter. The comments and opinions expressed on this site are of the individual author and may not reflect the opinions of the insurance company or any individual attorney.